GUE Instructor resumé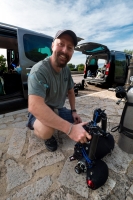 Professional
GUE Instructor.
Commercial UAV Pilot,
Lighting Designer and Event Production Manager
Education
BA(2000) Electrical and Information Science, University of Cambridge, UK
Diving Qualifications
Cave 1 Instructor GUE
Tech 1, 2 Instructor GUE
Fundamentals Instructor + Instructor Trainer GUE
Rec 1, 2, 3 Instructor+ Instructor Trainer GUE
Gas Blending Instructor + Instructor Trainer GUE
DPV Instructor GUE
Documentation Diver Instructor GUE
Tech 2+, Cave 2, RB80 GUE
Diving Experience
Diving since 1993
2500+ dives
1000+ wreck dives
800+ Trimix dives
600+ Cave Dives
200+ Cave DPV dives
150+ Rebreather Dives
Community Involvement
Survey Diver on St George Survey Project, Monvalent, France
Project manager for Project Baseline Malta
Project Diver - Project Baseline Mediteranian Panarea III
Member of GUE-UK
Member of WKPP
Presented the DIR-UK Unknown Sailing Ship project to the GUE conference in Budapest 2007
Founding member of Tekcamp Instructional Team
Special interests
3D Photogrammetry of archaeological sites.
Publications
Primary Author of GUE Gas Blender class
Part of the team who developed the GUE Recreational Level 1 class.
Quest 17.2 - The GUE/Project Baseline Lost Islands Project
Languages
Additional Info

John is an avid diving adventurer and explorer. He loves to explore and document interesting dive sites, especially those with archaeological or geological significance. Although based in the UK, John travels worldwide to teach GUE classes. He enjoys the process of helping divers become the best that they can.