GUE Instructor resumé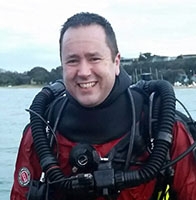 Professional
Enterprise Technology Sales, Microsoft Australia
Diving Qualifications
GUE Rebreather
GUE Tech 2
GUE Cave 2
GUE Fundamentals and Recreational Instructor
GUE Gas Blender Instructor
EFRI EFR Instructor Primary & Secondary care, AED
TDI Trimix
TDI Advanced Gas Blender
IANTD Technical Cave
DAN O2 Provider
AIDA 2 Star Freediver
Diving Experience
1000+ dives, including:
Wreck
Reef
Cave
DPV
Mixed Gas
Decompression
Closed Circuit Rebreather
Community Involvement
Member of Southern Ocean Exploration
Member of Australian Exploration Group (GUE)
Member of Australasian Institute for Maritime Archaeology
Member of South Pacific Underwater Medicine Society
Through his involvement with Southern Ocean Exploration, Nick has had the opportunity to work with a team to identify and document newly discovered shipwrecks to enhance the knowledge of local maritime heritage.
Special interests
Underwater photography and videography
Wreck diving
Fitness
Publications
Nick has authored articles on the subject of wreck diving in Australia for Quest magazine in 2007 and 2008. His photos have appeared in a range of global news publications, books and diving magazines.