GUE Instructor resumé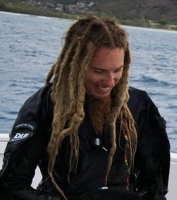 Professional
Joakim Hjelm Photography 2010-present
Island Divers Hawaii 2002-2011
Photographer Hilo Hattie 2009-2010
Education
Hawaii Pacific University - Bachelor of Science Degree in Marine Biology
Diving Qualifications
GUE Instructor: Primer, Doubles, Drysuit, Rec 1, Fundamentals, DPV 1, Documentation Diver, Gasblender
GUE Cave 2, Tech 2
TDI Advanced Trimix Instructor
TDI nitrox/trimix gas blender instructor
PADI MSDT
Diving Experience
Started diving in Hawaii in 98, became very interested in technical diving and wanted to pursue more in-depth and challenging training. Found GUE:)
GUE opened up the doors of Mexico cave diving, something I had always been fascinated about.
I always strive to be as good of an educator possible, and the best way to achieve that is to never stop learning myself.
Community Involvement
Project Baseline Saanich Inlet 2016-2017
Durrance Lake Cleanup 2016
MCEP 2011,2012,2013
SDUE - 2012-present
HaTeD - HAwaii TEchnical Divers 2004-2011
HUE - Hawaii Underwater Explorers 2011-present
Project Baseline Hawaii Kai 2012-present
Earth Day cleanup dives
Special interests
Underwater photography and videography.
3d photogrammetry
Freediving, rock-climbing, backpacking,
Publications
GUE calendar 2013,2014
GUE Photo of the Year 2012
Halcyon Photo Contest 1st Place 2011
PBS The Flintlock Disaster documentary
Languages
Additional Info

Currently living in San Marcos, California. Available for classes and charters any time. Drop a note!

Been working full time with scuba since 2002, conditions in Hawaii are good year round, so there are diving to be done at all times.
I can set up charters or classes anytime, please email me or call and I can put something up on the calendar for you.
Aloha!
Jo