GUE Instructor resumé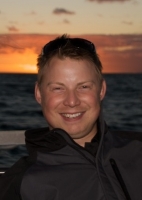 Classes I teach:
View Scheduled Classes
Professional
Managing Director, Scubalutions Pty Ltd, 2006 - present
Managing Director, Adelaide Scuba, 2007 - present
Diving Qualifications
GUE Fundamentals Diver
GUE TECH 1 Diver
CDAA Cave Diver
AIMA/NAS Maritime Archaeologist, Level 1
DAN Oxygen First Aid Provider
PADI IDC Staff Instructor
PADI Specialty Instructor
EFR First Aid Instructor
DSAT/PADI Nitrox/Trimix Gas Blender Instructor
GUE Primer Instructor
GUE Dry Suit Instructor
GUE Doubles Instructor
GUE Fundamentals Instructor
GUE Recreational 1 Instructor
SCUBA Equipment Technician (all major brands)
Diving Experience
I am extremely excited about being a part of the GUE community and as a member of the instructor team I'll continue to provide exceptional diver education and development. My underwater adventures started in the early 90's and as the years progressed my passion for diving grew with interests in deep, wreck, cave, mixed gas, underwater photography and videography. I began diving professionally within the diving industry over 10 years ago and as the current managing director of Adelaide Scuba in South Australia I have a strong interest in diver training and development. Diving has provided me with many opportunities to travel to some incredible locations around the world including the Philippines, South Pacific, Micronesia and regions within Australia. I aim to continue to promote GUE education, conservation and exploration with the aim to grow and develop diving communities across the globe.
Community Involvement
Committee Member, Glenelg Scuba Diving Club (actively hosting and facilitating club events and activities)
Project Site Manager, KESAB/Project Aware/Clean Up Australia Day (environmental clean up and conservation events)
Member of CDAA (Cave Divers Association of Australia)
Member of CEGSA (Cave Exploration Group of South Australia)
Member of AIMA (Australasian Institute for Maritime Archaeology)
Special interests
Wreck research, mapping and exploration
Cave research, mapping and exploration
Herpetology (Study of Reptiles & Amphibians)