GUE Instructor resumé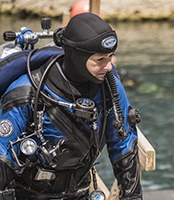 Professional
GUE Recreational Administrator (BOA Member)
GUE Rec and Tech Instructor
GUE Instructor Trainer & Evaluator
Education
University of Silesia, Social Sciences Department, International Relations and Journalism, Katowice, Silesia, Poland (major in Political Sciences in the line of Journalism, 1997)
Diving Qualifications
GUE Tech + 2 Diver
GUE Cave 1 Diver
GUE DPV & Documentation Diver
GUE CCR Diver
Former PADI & IANTD instructor
Diving Experience
4500+ dives since 1996
Including:
exploration dives
ocean dives
cold-water dives
photo/video operation dives
wreck dives
DPV dives
cave dives
Community Involvement
Founder/supporter of various local GUE communities in Europe and the Middle East. Participant in several GUE projects & multiple events (Tiger, Ghost Fishing, Med2015, demo days, conferences and shows). Author of publications in various magazines (Quest, Nurkowanie, Wielki Blekit).
Special interests
Communication and languages, learning enhancement techniques, fitness, travel and photography.
Languages
Additional Info

The areas for training are not limited to my current place of residence.