GUE Instructor resumé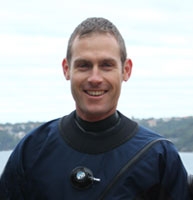 Professional
Education
BA - Spanish & Latin American Studies.
MA - Interpreting & Translation and International Relations.
Diving Qualifications
GUE Fundamentals Instructor
GUE Recreational Instructor - R1, R2 & R3
GUE Primer Instructor
GUE Doubles Instructor
GUE Drysuit Instructor
GUE Tech 2 Diver
GUE Cave 1 Diver
Careflight Instructor - (HUET) Helicopter Underwater Escape Training - Naval Aviation Sea Survival
PADI OWSI and Specialty Instructor
EFRI EFR Instructor, AED, Advanced Resus.
Diving Experience
2500 + Dives including:
Wreck
Cave
Mixed Gas
DPV
Community Involvement
Active member GUE Sydney Tec.
Publications
Translation of Fundamentals materials into Spanish
Languages
Additional Info

Simon has been diving since the age of 12 when his love for the aquatic realm was awakened. Having dived professionally since 2004, he is now hugely passionate about bringing the next level of training to those he teaches.